ZEN X-Fi Wireless Lan
Besides the X-Fi, the other selling point of the ZEN X-Fi is its Wireless Lan (Wi-Fi) function. The Wi-Fi function here has two main capabilites. One is to stream/download media content wirelessly from your PC or to your ZEN X-Fi. The other is to chat with your friends via MSN or Yahoo! Messenger. The player's WiFi operates on the widely used 802.11b and 802.11g protocols. And it works on both secured (encryption key needed) and unsercured network. Once you successfully connect to a particular network (e.g your home network), you can save it as a (up to 10) preferred network, so that you do not have to manually key in your username and password every single time you connect.
Ok, I digress. Once you sync your ZEN X-Fi to your PC using the Creative Centrale, you are able to view (no lag) and download music, photos and video to your player. However, it will not stream ALL your videos, below is the recommended video formats for wireless streaming:
You can't choose a display picture for your ZEN X-Fi chat (though you can see your friend's one). However, you can create your own avatar:
Chatting on MSN:
Below is a video demo of how the ZEN X-Fi chat works:
Creative Centrale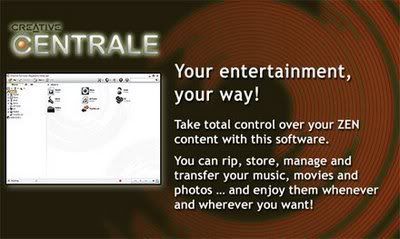 Another change with the ZEN X-Fi comes in the form of its software. Unlike previous players which comes with its respective software (ZEN V Plus would have its ZEN V Plus explorer etc), the Creative Centrale is set to be the default software for all past and future Creative players. It allows you to edit the tag information, add album art, rip CDs and organise your music. The best thing about Creative Centrale is that it allows you to rip unprotected DVDs.
There are many media players in the market that supports SD intergartion, sadly, not the ZEN X-Fi. This means that files on your SD card are not accessible in the ZEN X-Fi's main library. Instead to view the files on the SD card, you have to enter a separate menu. This has dissapoint many as many of the original ZEN users have feedback that they wanted SD integration. The SD feature on the ZEN X-Fi is almost similar to the ZEN, except that it allows the ZEN X-Fi to act as an SD card reader.