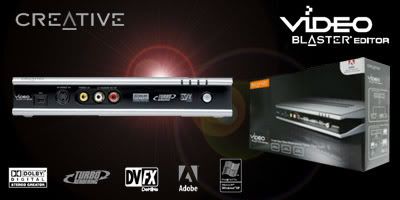 If you have ever done ANY video editing in your life, you would agree with me that rendering is a bitch. Not only does it take its own freaking sweet time to render, it also ALWAYS crashes at the most crucial time (either at 99% or an hour before your assignment is due). And don't get me started on capturing because I don't even know where (which port?!?) to begin.
Therefore, thank your lucky star because now we have the
*er hem*
Creative Video Blaster Editor
! If you don't have a firewire port or S-Video ports (if you don't know them, you pretty much don't have it) on your PC, the Video Blaster provides the right connection to transfer your analog and digital videos from your video camera to your PC. What's more, with it's unique
Turbo Rendering
, the Video Blaster harnesses the power of both the Video Blaster Editor's CPU and the CPU in your PC, allowing it to convert DV to MPEG up to 40% faster! You can encode the video's audio to Dolby Digital stereo and MPEG Audio with the device. It is also compatible with industry standard video editing software like Adobe Premiere Elements (full software provided) and Premiere Pro.
The Creative Video Blaster Editor will retail at USD$199.
Laptop Mag review
Creative Video Blaster Editor Product Page
Find out more about the Creative Video Blaster Editor