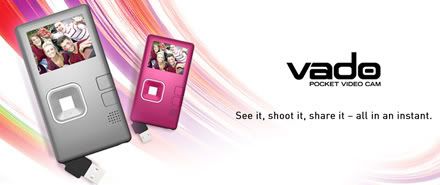 Ever experience a time where you had a funny or memorable moment but you didn't manage to capture it down as you
1)
did not have your camera with you
2)
your camera is too bulky and you do not want to take it out of your bag
3)
your camera is too expensive and you're afraid or losing/spoiling it?
Now all this will change with Creative Vado, Creative latest pocket video camera. It comes in 2GB and two color (silver and hot pink). 2GB of inbuilt memory allows you to record 2 hours worth of high quality video.
Features:
-slim, cheap (about USD$99) and light weight
-software allows you to download the videos onto ur com and upload to video sharing sites instantly
-removable rechargable battery
-built-in USB cable
-A/V cable to sharing your videos with your family on the TV (not included)
The Creative Vado will be available from 12 June 2008 at the PC Show and The CREATIVE Stores at Marina Square, Plaza Singapura and International Business Park, the online store at sg.store.creative.com and authorised dealers in Singapore at the suggested retail price of S$169.
[LINK]