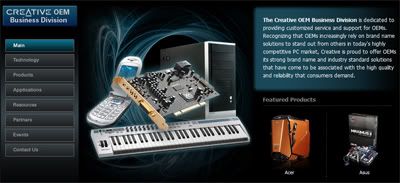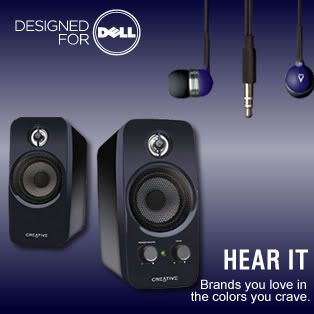 However, one of the more significant partnership is the one with Dell. Creative's partnership with Dell goes all the way back to 2005, when Creative manufactured the Dell Digital Jukebox (or Dell DJ) for company. And today, Dell's range of Inspiron laptop's in-built webcam is provided by Creative and now on Dell.com, you can customise your laptop with intergrated Sound Blaster Audigy or the latest Expresscard X-Fi Notebook Sound Card. It also customised its Inspire T10 speakers and EP-630 to match Dell's colorful range of laptops.
We would love to see the Creative brand logo on more products like PC, laptops and 3rd party soundcards. Not only will this help Creative increase its brand awareness, it will also provide additional source of revenue and really, the possibilities for OEM are endless. Are you more inclined to buy a product that has a Creative OEM parts? Tell us in the comments section!
[CREATIVE OEM BUSINESS DIVISION]
Update: One of our readers, Gerii, also pointed out to us a Creative/MSI Xtreme Audio Card spotted at the Games Convention 2008 in Leipzig and provided us an image of it!